11/30/98-HAPPY ST.ANDREW'S DAY SCOTLAND!!!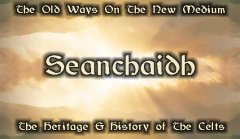 The Legacy of the Celts
This site is updated every Tuesday/Chat meetings begin 2pm CST 11-17-98/Last Update 11-23-98
New stories to be added next week!!You can still vote on your favorite Celtic album of the year 1998 in the following catagories.Best Overall Album,Best Female Vocalist,Best Male Vocalist and Best Band also Best New Celtic Artist e-mail your votes to me at seanchaidh@rocketmail.com from now until January 31st,1999.
You are visitor number
,Ciamar a tha thu,enjoy your stay.
Coming Soon-Children's tales of the Celts/More stories/more music/Vacationing on the Isles and more,more,more.
NEW!!!-Purchase Celtic Music from this site with CDNow and save money!Credit cards needed encryption provided!
Join our mailing list to get updates on updates just click here and send as the topic subscribe it's that simple seanchaidh@rocketmail.com
Help this site improve CONNECT TO SEANCHAIDH!